Dieketseng Mnisi is a South African actress who currently plays the role of Nontombi "Mantuli" Seakamela in SABC 1 soapie, Skeem Saam.
She is best known for playing the role of pastor's wife Masechaba Moletsane on Stokvel, from 2007-2012. Dieketseng is one of the original cast of Skeem Saam together with Vusi Leremi, Thabang Lefoa, and others. On-screen, she can depict both villain and heroic roles but what is she like in real life? Let's find out as we explore the Dieketseng Mnisi Biography.
Dieketseng Mnisi Profile Summary
Real Name: Dieketseng Mnisi
Gender: Female
Date of Birth: 1961
Place of birth: Soweto, South Africa
Ethnicity: Black
Nationality: South African
Occupation: Actress, Entrepreneur
TV Shows: Skeem Saam, Rhythm City
Instagram: not active
Net Worth: US$125 000
Where is Dieketseng Mnisi originally from?
Dieketseng Mnisi was born and raised in Soweto. She grew up in the 70s when apartheid was in full force, but she managed to follow her dream of acting through joining theatres including the famous Gibson Kente play. Over the years she has stayed in numerous towns, but she seems to be settled now in Johannesburg.
Which TV shows have Dieketseng Mnisi appeared in?
In over 3 decades, Mnisi has featured in several theatre and television productions. Some of her appearances are noted below;
Stokvel Seasons 5 to 8 as Masechaba Moletsane
Skeem Saam Seasons 1 to 9 as Ma Ntuli
eKasi: Our Stories – Season 5 and 6 as Nokufa, Mama Jama
Intersexions – Season 2 as Nurse Gloria
Yizo Yizo – Season 2 as Mrs Mokoena
Soul Buddyz – Season 1 as Mrs Thipa
Rhythm City – Season 1 as Caroline
Zone 14 – Season 3 as Rebecca
Who is Dieketseng Mnisi's husband? 
Dieketseng Mnisi has been single ever since she divorced her ex-husband Jabu Nkosi  Chirwali. The couple dated till they got married after meeting on the popular SABC1 sitcom, Emzini Wezinsizwa. They were married for 22 years until they went through a painful divorce on the part of Dieketseng in 2005. Together with Jabu Nkosi Chirwali, Dieketseng Mnisi has two children together who are now grown-ups.
Skeem Saam
In Skeem Saam, Dieketseng Mnisi portrays the character of Mantuli. Mantuli is a cheeky, strict and hard-headed mother. She is loved by many for being a sassy go-getter who refuses to let age stop her from living a life full of excitement and colour. Mantuli's performance on Skeem Saam has gone beyond excellence as evidenced by an increase in her fan base. Skeem Saam is a blend of stories about the journey to manhood. The local drama series examines the plight of today's male children and the tough challenges they face transitioning into manhood.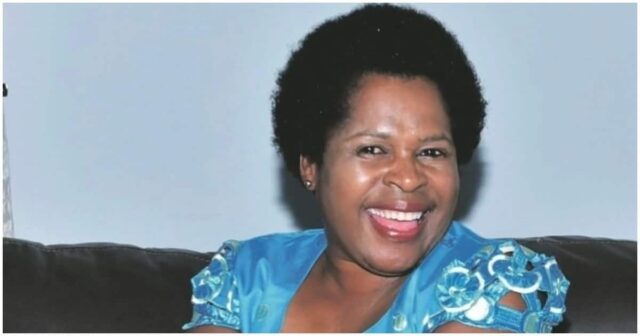 Social Media
Dieketseng Mnisi has a Facebook fan page that she utilizes to update her followers about upcoming events or updates. She doesn't have an Instagram account which is quite shocking considering the relevance of Instagram in brand influencing, information dissemination as well as programming influence. Similarly, she is not on Twitter which is a quite useful social media site for updating fans and reminding fans about upcoming events, and giving reminders. Is she totally off social media, or she is using an alias? That's some food for thought.
What is Dieketseng Mnisi's Net Worth?
As a result of working hard for almost four decades, Dieketseng has earned a luxurious lifestyle. As of 2020, Dieketseng Mnisi has a net worth of $125 000. Besides acting, Dieketseng Mnisi is into entrepreneurship, which has consequently increased her income spontaneously.