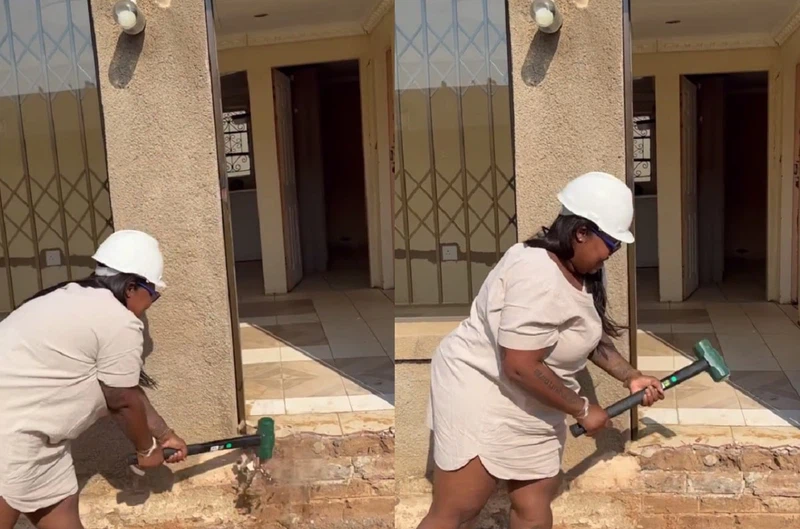 Emotional South African Sangoma, Gomo Maweni destroyed her old house with a heavy hammer, saying she wanted to build a new one.
South African Sangoma Gogo Maweni destroys her house with a hammer in an Instagram video.
Gogo Maweni has been making all sorts of headlines recently.
Her relationship with her husband had been one of the things that kept her on the social streets.
Together, they have been serving marriage goals as they go to dinners and buy presents.
A few weeks ago, she bought herself a nice to celebrate her birthday, and fans loved it.
Indeed, Gogo Maweni is not yet done spending big on her asserts.
This time, she was destroying her house with a hammer such that she built a new one.
Sharing on her Instagram, Gomo Maweni said the emotions were getting the best of her.
"The emotions are overwhelming. Hhere's to a new project ♥️"
GOGO MAWENI DESTROYS HER HOUSE WITH A HAMMER
The excitement of building a new house caught with Gogo Maweni so much that she could not wait for the builders.
She had to get on the ground and do the real hard work herself with a heavy hammer.
The Sangamo showed the energy that most fans did not imagine she had.
Few ladies can lift that size of a hammer comfortably, breaking the walls.
Some fans suggested that she was rebuilding her parents' house, and they commented on such a gesture.
MZANSI REACTS
After Gogo Maweni shared a video of hitting her house with a hammer, many fans had much to say.
"I like what you are doing, not selfish and taking of family. Good job. Some people look fancy out here but go to their parents house😢"
"Sebenza mogurl….its your season, 😍beautiful things don't come easily…bazoth nywe..nywe…bakhohle ubuzebenza nzima👏"
"Where is your overall?😂😂😂 breaking bricks with a dress 😂😂"
"Tokoza Gogo…may I kindly bring u a nice roses boquet as a 🎁…I am operating in Comaro crossing,I have just started I need clientele"
"Uhamba wedwa sisi ngiyakuvuma👏👏👏sebengakhuluma nje.."