Kwaito's mom, MaNtuli, has called his ex-girlfriend, Glenda, back to Turfloop in the hopes she will break Kwaito and Elizabeth up.
An unfortunate incident derails Kwaito's lobola plans.
If you remember, Kwaito was once in a polygamous relationship with both girls at the same time and it was no secret that Glenda was MaNtuli's favourite.
Rebecca and Mantuli will never get along | See why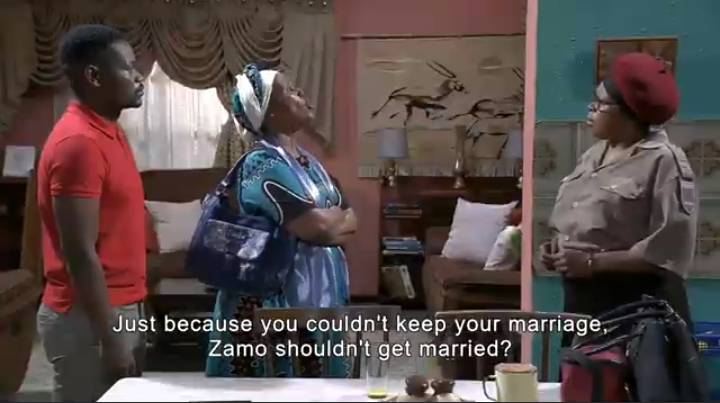 Not only is she causing trouble for Elizabeth in her relationship, but she's also showing up at her workplace causing commotion. Go away, Glenda!
Meanwhile, Kwaito proposed to Elizabeth, and he now has to pay lobola, but he does not have the money. He is considering taking it from the money he's been saving for his mom's double-story house. But MaNtuli will blow a fuse if he ever does that.
Kwaito has a plan to cover lobola costs, and Mantuli will agree for Kwaito to pay lobola and build the house at the same time. Kwaito has spoken to Marothi and promised to pay him the R200,000 he owes. So will Kwaito be able to continue with the negotiations?
Yes, of course Kwaito will die until he pays that lobola and commits himself to Lizzy. Elizabeth shoves Jacobeth into a tight corner regarding marrying Kwaito. She wants to marry Kwaito no matter what happens, and her mother must deal with it.
The teasers for October reveal that Kwaito will have a heart-to-heart with his potential mother-in-law. But Jacobeth is not willing to give her daughter a blessing; she still insists that Kwaito is not good for her daughter, and Elizabeth will think maybe this is not the right thing because her mother is in bad condition. She is so sad.
But that's not going to stop her from loving Kwaito.
Jacobeth will try to sabotage Elizabeth's happiness. While wedding bells start ringing for one son, another's freedom hangs in the balance, and he's forced to plead for a credible character witness.
An unfortunate incident derails Kwaito's lobola plans and Kwaito's hospitalization news reaches Glenda's ears.
Not what happened Kwaito will give his final decision on lobola paying, and everyone will be shocked. The wedding bells are loading, and Kwaito is going to pay lobola in November 2023.
Follow us for more of the content 💖 Stay Updated and Connected on SSiTV
Don't forget to follow and like our page for more of the content 💖