Lamiez Holworthy cherishes her son, plans to capture his milestones.
DJ Lamiez Holworthy is dedicated to documenting every milestone and celebration for her son, Leano Zion. Her followers love it.
DJ Lamiez Holworthy is taking her role as a new mother seriously and her followers love to see it
The new mom, who welcomed her son Leano Zion with rapper Khuli Chana, has been sharing more content on her pages
She recently revealed that she is planning to document every little milestone and celebration so that Leano can see it later on
Lamiez Holworthy is enjoying every step of her motherhood journey. The media personality welcomed her first baby with her husband Khuli Chana a few months ago.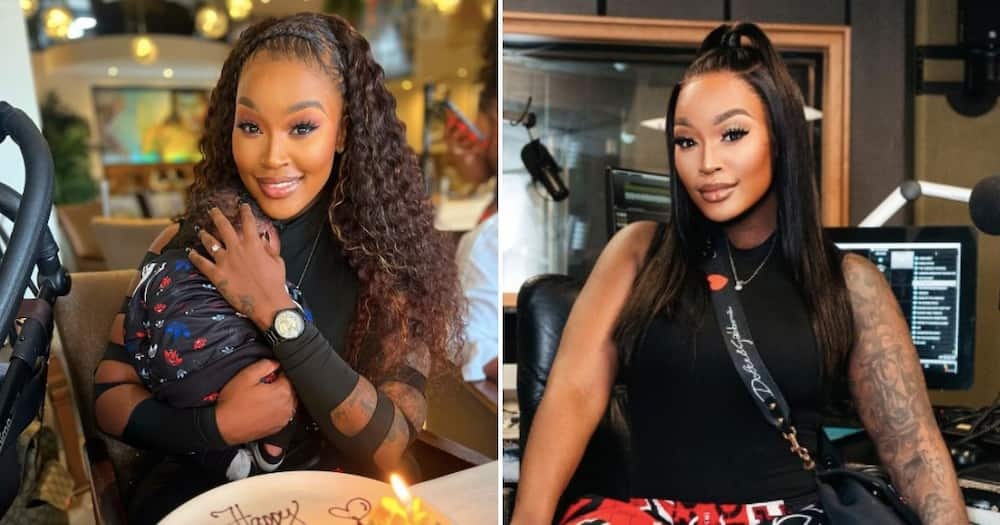 The star has been giving Mzansi baby fever by sharing adorable content, from her controversial birth video to her first photoshoot.
DJ Lamiez Holworthy explains why she wants to document her son Leano Zion's milestones
DJ Lamiez Holworthy has vowed to take time off her busy schedule to ensure she documents her son's milestones and celebrations. According to TimesLIVE, the doting mom took to her Instagram stories to explain why she is planning to document Leano's life. She wrote:
"My goal is to capture as much as possible. Every milestone, every celebration, every little win so that someday Leano Zion can see how much happiness he's brought us."
Lamiez Holworthy shares stunning pictures from her Mother's Day photoshoot with her son Leano Zion and her mother
Lamiez celebrated her first Mother's Day in style. The star headed to her Instagram page and shared stunning images from her photoshoot with her mother and son. She wrote:
"And I pray that I will be to my son what you are to me. #happymothersday from Leano Zion, his gran and I ❤️."
The star's followers loved the Mother's Day content she served them. Many flooded her timeline with sweet responses.
@djzinhle said:
"Happy Mother's Day you two."
@gabisilet commented:
"Omg, I thought that was your lil sister, mommy keeps getting younger and younger."
@tarryn.txc noted:
"Happy Mother's Day. ❤️"
@melzinbala wrote:
"Happy Mother's Day. ❤️"
Lamiez Holworthy's hospital pictures with a full face beat spark debate: "Isn't giving birth exhausting?"
Still on DJ Lamiez Holworthy, Briefly News reported that the star proved that she is not a regular mom. The star, who welcomed her son Leano Zion with rapper Khuli Chana, has been sharing her motherhood journey.
Gone are the days when mothers went into the labour ward looking exactly how they felt. DJ Lamiez Holworthy wanted to give the best first impression to her baby boy, so she went to the hospital with her full glam on.
A picture of the star a few hours after welcoming baby Leano Zion has caused a stir on social media. The new mom did not look like someone who just came out of surgery with her face neatly done.
Follow us for more of the content 💖 Stay Updated and Connected on SSiTV
Don't forget to follow and like our page for more of the content 💖