Skeem Saam's Hellen Motsuki avoids makoti duties, video goes viral.
Hellen Motsuki, known for her role in Skeem Saam, showcased her bougie behavior at a recent family gathering. Fans were amused.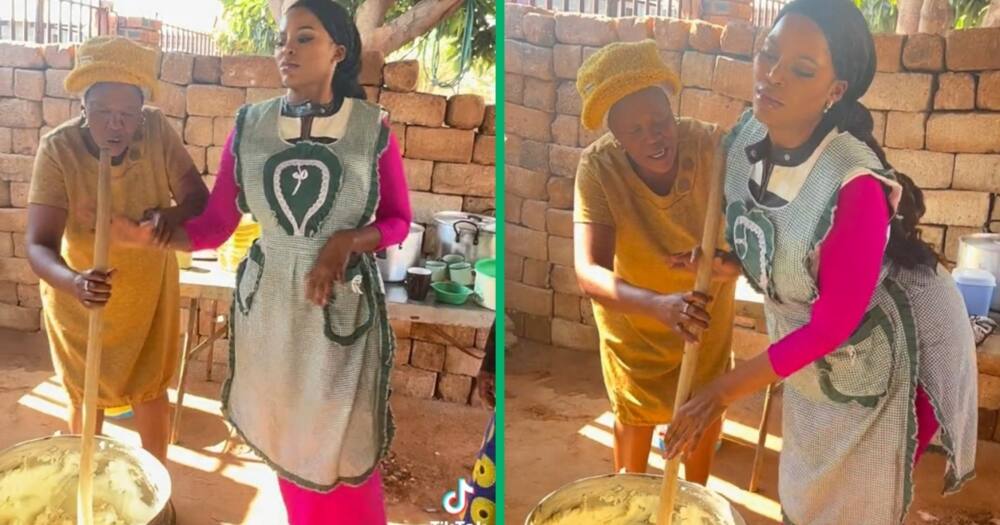 During a recent family gathering, Hellen Motsuki tapped into her inner Skeem Saam character, Melita, and displayed her extravagant demeanour.
The actress went to great lengths to avoid taking on her responsibilities as a wife.
Hellen Motsuki channelled her inner Melita at her family's recent family gathering and showed her bougie behaviour on TikTok
The Skeem Saam actress is seen in the funny video trying by all means to avoid performing her makoti duties
Hellen's fans were thoroughly amused by her antics which were a true reflection of her notorious character
Hellen Motsuki embraces on-screen persona
Her female relatives playfully pestered her to prepare a meal in a traditional three-legged pot, but Hellen lightheartedly resisted.
The soapie star playfully suggested that a woman's value is proven in the bedroom and not through domestic chores like cooking.
Hellen's video on domestic life goes viral
The funny family banter was posted on Hellen's TikTok account on Friday and was a hit among fans. It is already sitting on 780,000 views and people can't get enough of her slay queen behaviour.
Watch the video below:
Mzansi entertained by Hellen Motsuki
Hellen's fans were thoroughly entertained by her antics, which perfectly mirrored her well-known on-screen character.
See some of the comments below:
@ntiyiso_kagiso stated:
"This lady is beautiful yoh."
@mamatshego70 commented:
"Ba botse gore wena o wa di salads. "
@ke.itumetse wrote:
"Aowa, nna as makoti, I won't cook for the whole family.Ba apeela ke mang now cause I'm not there yet?"
@innomoloi22 said:
"You not even trying dawg."
@user7638342818551 mentioned:
"I'd show up wearing heels and long nails. Nna tse gakedi tsene."
@chardonnay473 added:
"When she said 'nna ke masebotsana wa maloba' that was Melita talking."
@lebo_leteane posted:
"Melita mara ke drama queen wetsi."
@b.ohlaleeeee shared:
"Just realised that my future in-laws ba satlo di bona because this is me as a makoti."
'Skeem Saam' actress Hellen Motsuki gets attacked for mistress role as Melita at the grocery store
In another article,  reports were that Hellen Motsuki was recently interviewed by Sowetan about her infamous role as Melita on the SABC 1 soapie Skeem Saam.
The actress who plays the character of a gold-digging hospital receptionist said she was hit with a trolley by an elderly woman at a grocery store
Follow us for more of the content 💖 Stay Updated and Connected on SSiTV
Don't forget to follow and like our page for more of the content 💖