On Gqeberha The Empire: Drama, Intrigue, and Surprising Twists Await.
Coming up next on Gqeberha: The Empire this October 2023:
Monday 16 October 2023
Episode 196
The selfish act of forgiveness
Nontle and Ntando take their relationship to the next level. Luzuko tells Nozuko about Thulani being alive. She suggests Luzuko must finish what he started. Luzuko and Bulelwa are both anxious about the secrets they are keeping from each other.
Tuesday 17 October 2023
Episode 197
The calm before the storm
Nontle begs Sivuyile to keep quiet after he uncovers her secret. Fundiswa reverts to childish stunts to get Mbube's attention. Anathi questions whether they are truly safe now that Luzuko knows they're both alive.
Wednesday 18 October 2023
Episode 198
Your son is no more
Thulani receives devasting news about his unborn son. Ntando and Nontle are shook when they learn what they have to do if they want to be together. Fundiswa drops a bombshell on her brother.
Thursday 19 October 2023
Episode 198
In need of a painkiller
Luzuko lays down the law and demands that Mbube and Fundiswa stay away from each other. Zimkhitha fails to get the Makwetu's support in putting a stop to Ntando and Nontle's relationship. Thulani is sure he knows who's responsible for the pain he and Anathi are in.
Friday 20 October 2023
Episode 199
Guns and Knives
Thulani versus Luzuko. Could this be the end of the Mxenge empire? Can Zimkhitha stop Ntando and Nontle's incestuous affair, or is it too late? Mbube packs his bags and leaves Zimkhitha's house.
Gqeberha: The Empire's Ntando will unknowingly date his half-sister Nontle in October and Zimkhitha will attempt to stop their relationship.
TVSA Gqeberha: The Empire October teasers reveal Zimkitha (Zandile Msutwana) will break up her son Ntando's (Phila Madlingozi) relationship with Nontle.
The teasers also reveal that Ntando will declare feelings for Nontle (Siziphiwe Maqubela) on Wednesday, 11 October but won't get a desired reaction.
Thursday, 12 October: "Nontle gives in to her feelings for Ntando."
Both Ntando and Nontle have no idea that they're half-siblings as Ntando mother, Zimkitha, who is married to Luzuko had an affair with their father Msimelelo (Anele Matoti).
The teasers also confirm that the pair will break up when Thulani (Tembinkosi Ngcukana) breaks up with Anathi and comes out of hiding.
Thulani is legally still married to Nontle, while Anathi is married to his father Luzuko (Mbulelo Grootboom).'GQEBERHA: THE EMPIRE': MORE SPOILERS
Fan-favourite couple Thulani and Anathi (played by actress Akhenime Mfenyana) will officially break up after the death of their baby and return to Gqeberha to continue with their lives.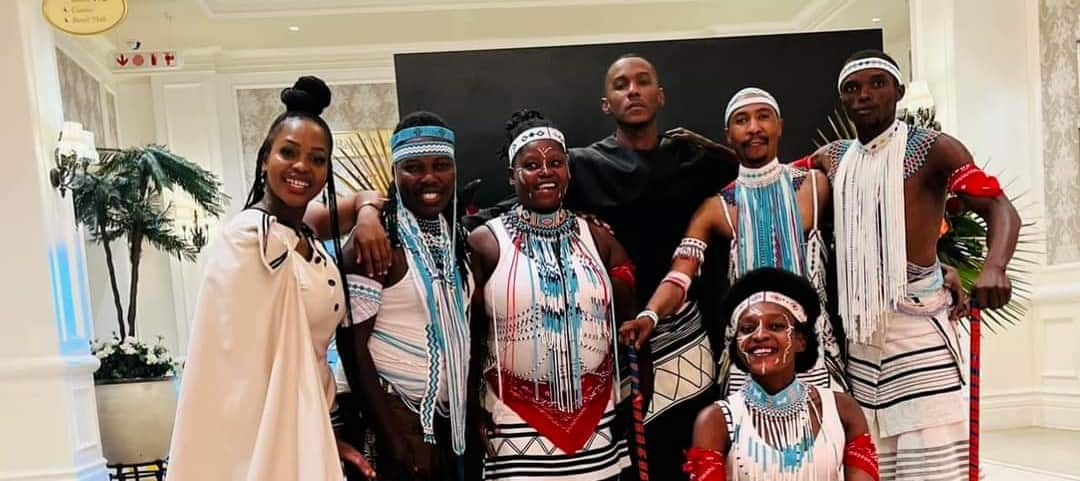 Wednesday, 18 October: The headline for the teaser reads "Your son is no more" and adds "Thulani receives devasting news about his unborn son."
Friday, 27 October: "Nontle is reunited with Thulani."
Tuesday, 31 October: "Nontle and Thulani struggle to find their groove while they both pine for other people."
Coming Up On Gqeberha The Empire (16 October 2023 – 20 October 2023)
Coming Up On Gqeberha The Empire (16 October 2023 – 20 October 2023)
[fb_vid id="3138034179836188″]
Gqeberha The Empire has exciting episodes from October 16-20, 2023.
Drop your comments and views about this scene
Please don't forget to share the post with as many people as you feel comfortable doing so