Scandal's thrilling week promises shocking twists and intense revelations. Stay tuned!
On the week of October 23rd to October 27th, 2023, eTvScandal has an exciting lineup of episodes in store. Fans can look forward to the latest developments and twists in the storyline.
During this week, viewers will witness gripping drama as the characters face new challenges and dilemmas. The show will delve into the intricate web of relationships, secrets, and betrayals that make up the world of Scandal.
With each episode, the plot will thicken as the characters navigate their way through love, power struggles, and personal conflicts. The writers have crafted a compelling narrative that will keep viewers on the edge of their seats.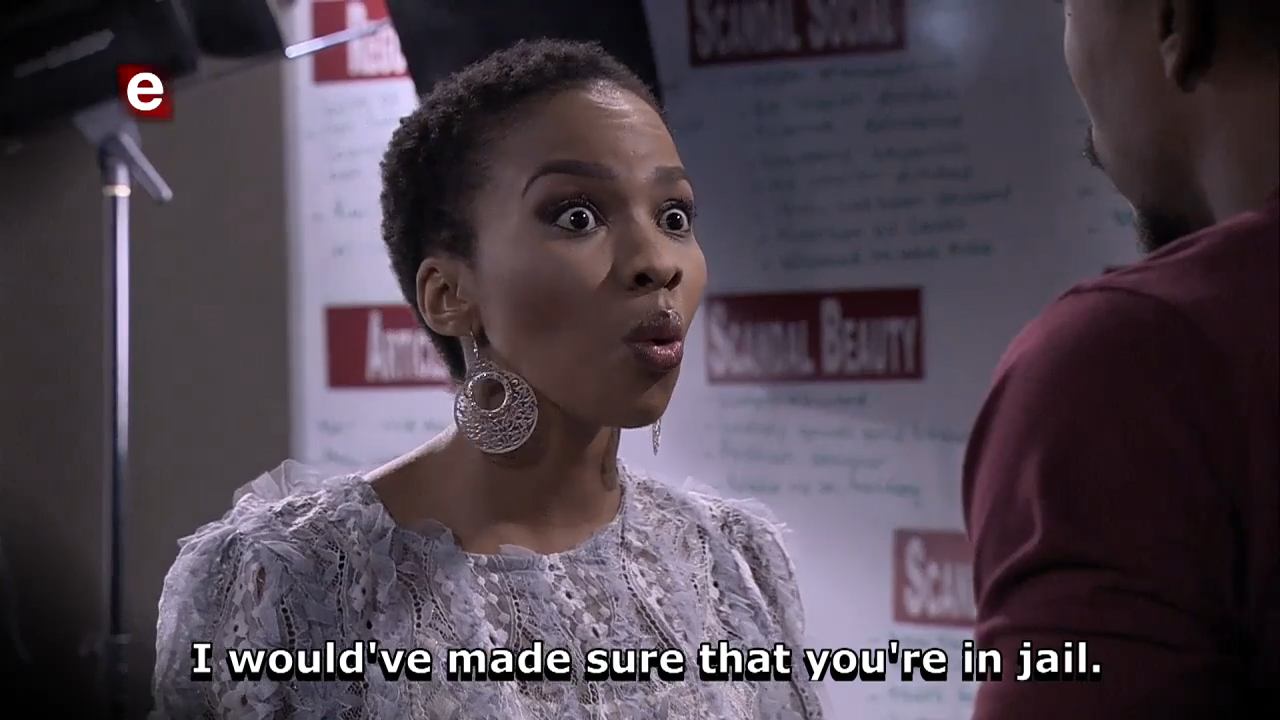 In addition to the intense drama, viewers can also expect moments of humor, romance, and suspense. The show offers a well-rounded viewing experience that appeals to a wide range of audiences.
eTvScandal has gained a loyal following over the years, thanks to its talented cast, engaging storylines, and high production quality. The show has become a staple in many households, sparking discussions and debates among viewers.
As the week progresses, viewers can anticipate surprising plot twists, unexpected alliances, and shocking revelations. The writers have carefully crafted each episode to maintain the suspense and keep viewers hooked.
Monday 23 October 2023
Episode 147 (4459)
Nqobile uncovers a dangerous secret. A trouble teenager finds herself alone and rejected even though she thinks she's making the right decision. Cee-Jay is forced to be the adult when his elders behave like children.
Tuesday 24 October 2023
Episode 148 (4460)
Tebello and Nqobile find themselves in hot water. A mother is forced to question the amount of her love for her two children. A sinister plan backfires against two troublesome siblings.
Wednesday 25 October 2023
Episode 149 (4461)
In light of recent displays of deception, a man may have let a snake into his home. Has Mdala decided to find a new lease on life? A man is fuming mad when he feels cheated by another family member.
Thursday, October 26, 2023
Episode 150 (4462)
A man believes his life is in danger and shares vital information with Dintle. A wife misinterprets her husband's cry for help. Cee-Jay approaches a gift with skepticism.
Friday, October 27, 2023
Episode 151 (4463)
A suspicious nephew decides to enlist a spy. Taps meddle in matters he shouldn't. Jackie unveils a wild plan to her skeptical brother.
eTvScandal is not just a television show; it has become a cultural phenomenon. Fans eagerly wait for each new episode, discussing theories and predictions online. The show has spawned fan clubs, fan fiction, and even dedicated conventions.
The success of eTvScandal is a testament to the power of storytelling and the impact of well-developed characters. The show has resonated with viewers by exploring themes of love, loyalty, and the consequences of one's actions.
In conclusion, the week of October 23rd to October 27th, 2023, promises to be an exciting and eventful one for fans of eTvScandal. With its gripping storyline, talented cast, and dedicated fanbase, the show continues to captivate audiences and leave them eagerly awaiting the next episode.