Vuyokazi and Mpumelelo Mseleku thrilled as they anticipate their baby boy.
The stars of Izingane ZeS'thembu, Vuyokazi Nciweni and Mpumelelo Mseleku, recently made an exciting announcement – they are expecting a baby boy! This delightful news has brought joy and happiness to the couple and their fans alike.The news of Vuyokazi and Mpumelelo expecting a baby boy has sparked anticipation and excitement within their community.
Musa Mseleku's son recently faced a harrowing incident due to his involvement with his baby mama. This unfortunate situation serves as a reminder of the complexities that can arise from such relationships. It highlights the importance of handling such matters with care and respect for all parties involved.
It seems that Mpumelelo Mseleku, Musa Mseleku's girlfriend, is once again pregnant. This news adds another layer of complexity to their already intricate situation. It is crucial to approach situations like these with empathy and understanding, as they can have a significant impact on everyone's lives.
Instances like these often attract attention and speculation from others. People tend to talk and form opinions, sometimes without having all the facts. It is essential to remember that everyone involved in this situation deserves privacy and respect. Gossip and rumors can cause further harm and unnecessary stress.
The couple, who are well-known for their roles in the popular TV show Izingane ZeS'thembu, have always been open about their journey as a family. Their announcement has garnered attention and support from fans who have followed their lives and careers.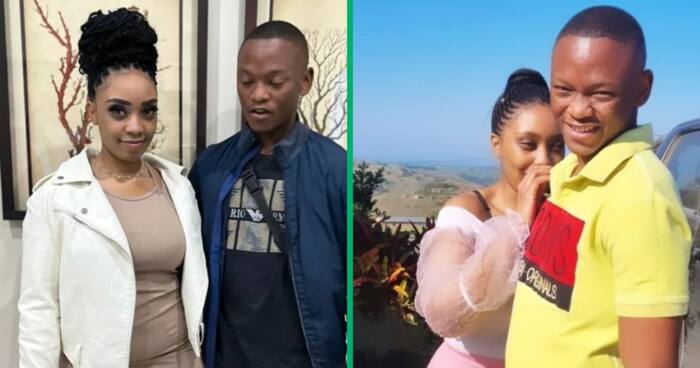 The arrival of a baby boy will bring a new chapter of love and happiness to Vuyokazi and Mpumelelo's lives. They will embark on the journey of parenthood, experiencing the joys and challenges that come with raising a child. The couple's fans are eagerly awaiting updates on the pregnancy and the arrival of their little bundle of joy.
In situations like these, it is important to prioritize the well-being of all individuals involved, including the children. Clear communication, empathy, and a willingness to find common ground can help navigate through challenging times. Seeking professional guidance, such as counseling or therapy, can also be beneficial in resolving conflicts and fostering healthy relationships.
This exciting news also highlights the importance of family and the blessings that come with it. Vuyokazi and Mpumelelo's announcement serves as a reminder of the beauty of life and the joy that children bring. It is a celebration of love, unity, and the continuation of their family's legacy.
The journey of pregnancy is a unique and transformative experience for any couple. From the first ultrasound to feeling the baby's kicks, every moment is filled with wonder and anticipation. Vuyokazi and Mpumelelo will undoubtedly cherish these precious moments and create lasting memories as they prepare for the arrival of their son.
The stars of Izingane ZeS'thembu, Vuyokazi Nciweni and Mpumelelo Mseleku, have revealed that they are having a baby boy.
The reality TV show gives a detailed insight into the lives of Mseleku children and the difficulties they encounter as they try to forge their own ways. Vuyokazi and Mpumelelo are expecting their second child, a brother for their daughter Hlubielihle Mhlophekazi, who lives with Mpumelelo's parents.
It is crucial for society as a whole to be understanding and non-judgmental when faced with situations like these. Instead of perpetuating gossip or rumors, we should strive to support and uplift those who are going through difficult times. Compassion and empathy can go a long way in creating a more inclusive and accepting community.
Mpumelelo follows in the footsteps of his father, Musa Mseleku, who is a polygamist. Mpumelelo wants to continue his father's polygamous tradition. However, he finds it hard to balance his young spirit with his responsibility as Mseleku's son.
He plans to have seven wives, beginning with his two current girlfriends – Vuyokazi, who is unhappy with his attraction to other women, and Tirelo Kale, who is okay with Mpumelelo seeing other women.
Tirelo also recently had a baby boy.
Sex tape scandal In the last episode of the reality show, Mpumelelo's girlfriends confronted him about the sex tape that was spreading on social media.
He later told his polygamous father that he regretted his mistake and that he was filmed without his consent.
Mpumelelo said that he was advised to impregnate the mother of his first child again and that his father would be pleased. On social media, Vuyokazi said that she was eager to meet her little prince.
She also said that she cried when she learned that she was having a boy.

"Ebantwaneni uThixo undibusisile kakhulu [God has blessed me]. I want to give a special thanks to my best friend @thandilekonco for this amazing baby shower.

"I love you so much. I will never forget this special day. Also to my family and friends abandi nika isupport ndiyanithanda kakhulu, [thank you for your support, I love you]," she wrote."
The news of Vuyokazi and Mpumelelo expecting a baby boy also highlights the importance of gender equality and breaking societal stereotypes. It showcases that the gender of a child does not define their worth or potential. Instead, it emphasizes the unconditional love and support that parents provide, regardless of their child's gender.
In conclusion, the announcement of Vuyokazi and Mpumelelo expecting a baby boy has brought immense joy and excitement to their lives and the lives of their fans. It symbolizes the beauty of love, family, and the anticipation of welcoming a new member into the world. We eagerly await the arrival of their baby boy and wish them all the best on their journey of parenthood.
The incident involving Musa Mseleku's son and his baby mama serves as a reminder of the complexities that can arise in relationships. It is important to approach such situations with empathy, respect, and understanding. By prioritizing the well-being of all individuals involved and fostering a supportive community, we can navigate through challenging times and create a more inclusive society.
Follow us for more of the content 💖 Stay Updated and Connected on SSiTV
Don't forget to follow and like our page for more of the content 💖