Actress Asavela Mngqithi proudly flaunts her affluent spouse in a captivating photograph that is sure to catch everyone's attention. This stunning display not only showcases her happiness but also sheds light on the lavish lifestyle she enjoys with her husband.
Asavela Mngqithi, known for her exceptional talent and mesmerizing beauty, is now giving us a glimpse into her personal life by sharing a photo of her wealthy partner. This gesture not only reveals her love and admiration for him but also highlights the glamorous world they live in.
The photograph captures the essence of their opulent lifestyle, displaying their luxurious home, high-end cars, and extravagant vacations. It serves as a visual representation of the couple's success and affluence, leaving no doubt about the grandeur of their life together.
Beyond the surface, this image also symbolizes the rewards of hard work and dedication. It reflects the accomplishments of both Asavela Mngqithi and her husband, who have undoubtedly worked tirelessly to achieve their current status. Their story serves as an inspiration to many, reminding us that dreams can indeed come true with determination and perseverance.

Popular South African actress Asavela Mngqithi-Mqokiyana is topping trends after she seemingly revealed her alleged rich husband on Instagram. Over the years, she has managed to keep her private life under wraps, leaving many to guess.
Interestingly, the actress is the daughter of Mamelodi Sundowns coach Manqoba Mngqithi – and undoubtedly, the photo of her multi-millionaire husband has set social media abuzz.
However, in the backdrop of her newfound, she disappeared from the public spotlight, leaving many to guess about her whereabouts. In the backdrop of her disappearance, she pulled a shocker when she took to social media to confirm that she was off the market.
Her post left Mzansi trying to connect the dots about her husband, but she managed to keep him away from the spotlight. Barely a few months into her pregnancy, controversial blogger Musa Khawula revealed she was married to celebrated businessman and philanthropist Vusi Mqokiyana.
Taking to Instagram stories, the bubbly actress shared a photo with her husband. However, she did not reveal the face of her husband. Mzansi was more than convinced that it was not yet ready to reveal the face of her husband.
Check:
She undoubtedly joins a host of A-listers who have kept their husbands away from the public spotlight, including Lerato Kganyago.
Asavela Mngqithi's husband, Vusiya Mqokiyana, holds a B. Sc Civil Engineering degree from the University of KwaZulu-Natal. He is the CEO/ Chairman of Umpisi Group, according to the company's website.
Umpisi is a force to reckon with in the engineering sector and has scored several multi-million projects over the years. The group's reputation has often been regarded as one of the best engineering companies in KwaZulu-Natal and South Africa.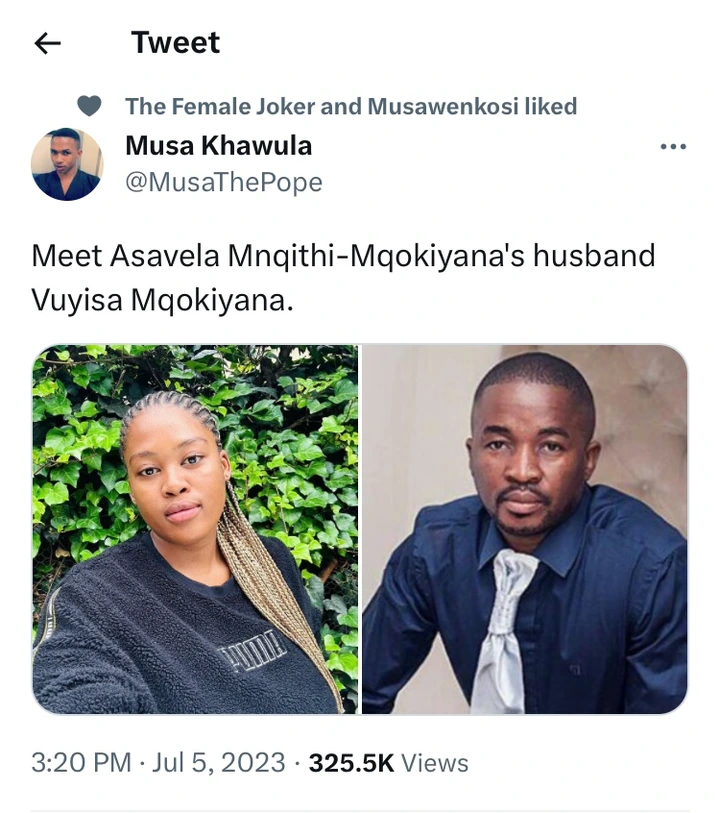 In a world where social media often portrays a skewed version of reality, Asavela Mngqithi's open display of her rich husband serves as a refreshing change. It represents honesty and authenticity, showing that success can be celebrated without any reservations.
Asavela Mngqithi's decision to share this photograph not only allows us to appreciate her happiness but also invites us to reflect on our own aspirations and goals. It encourages us to strive for success and reminds us that a life of abundance is within our reach if we work hard enough.
In conclusion, Asavela Mngqithi's photo with her wealthy husband is not just a glamorous display, but a testament to their achievements and a source of inspiration for others. It serves as a reminder that love, dedication, and hard work can lead to a life of prosperity and fulfillment.
In other Trends – Ex-The Queen actress Lorraine Moropa (Lerato) celebrates 27th birthday in style – Photos
The popular South African actress, Lorraine Moropa, who is best known for her role as Lerato in the hit series "The Queen," recently celebrated her 27th birthday in a truly unforgettable way. The talented actress spared no expense as she went all out to ensure that her special day was a memorable one.
Lorraine Moropa's birthday bash was a star-studded event, attended by some of the biggest names in the entertainment industry. From fellow actors and actresses to directors and producers, the guest list was a who's who of the South African film and television world. The event was held at a glamorous venue, beautifully decorated with elegant floral arrangements and sparkling lights.
To make her birthday even more special, Lorraine Moropa treated her guests to a night filled with entertainment and excitement. A live band set the mood with their soulful melodies, while professional dancers captivated the audience with their mesmerizing performances. The guests were also treated to a sumptuous feast prepared by a renowned chef, showcasing the best of South African cuisine.
As the night progressed, Lorraine Moropa took to the stage to express her gratitude for the love and support she has received throughout her career. She thanked her family, friends, and fans for their unwavering support and credited them for her success. The actress also took the opportunity to announce her upcoming projects, hinting at more exciting roles and collaborations in the future.
The real age of a well-known South African actress, Lorraine Moropa, former The Queen star, was revealed on her birthday. Lorraine Moropa had been playing the role of Lerato Khoza on The Queen, and she was a young girl.
Judging from the role, she looked more like an innocent young girl in her late teens. This has made many fans imagine that Lorraine was also a teenager in real life, but that's not it. Lorraine Moropa celebrated her 27th birthday on 31 October 2023, shocking many fans
Lorraine Moropa's 27th birthday celebration was not only a time of joy and revelry but also a reflection of her incredible journey in the entertainment industry. From her humble beginnings to becoming one of the most sought-after actresses in South Africa, Lorraine's dedication and talent have propelled her to great heights. Her birthday celebration served as a testament to her hard work and determination.
As Lorraine Moropa continues to make waves in the film and television industry, her birthday celebration serves as a reminder of the impact she has had on the lives of many. Her talent and charisma have made her a role model for aspiring actors and actresses, inspiring them to pursue their dreams relentlessly. With each new project and milestone, Lorraine Moropa continues to leave her mark on the industry and shows no signs of slowing down.
In conclusion, Lorraine Moropa's 27th birthday celebration was a glamorous affair that showcased her talent, success, and immense gratitude. The event was a testament to her status as one of South Africa's most beloved actresses and a celebration of her journey in the entertainment industry. As she enters another year of her life, Lorraine Moropa's star continues to shine brightly, captivating audiences and inspiring aspiring artists along the way.
We are passionate storytellers and content creators With a creative flair and a deep appreciation for the art of storytelling, We dedicated our time into sharing interesting TV series full stories, intriguing teasers, and daily updates.
Thank you for reading throughout the article, we appreciate your support and valuable time, you are a champion
If you could leave a comment and share the post with as many people as you feel comfortable doing so, it would be greatly appreciated
Stay Updated and Connected on SSiTV – Follow us and Don't forget to like our page for more of the content 💖