Itumeleng Khune, a prominent South African soccer player, is married to Sphelele Makhunga. Sphelele Makhunga is known for her beauty and elegance, and she has become a popular figure in the public eye. As Itumeleng Khune's wife, she has captured the hearts of many fans and supporters.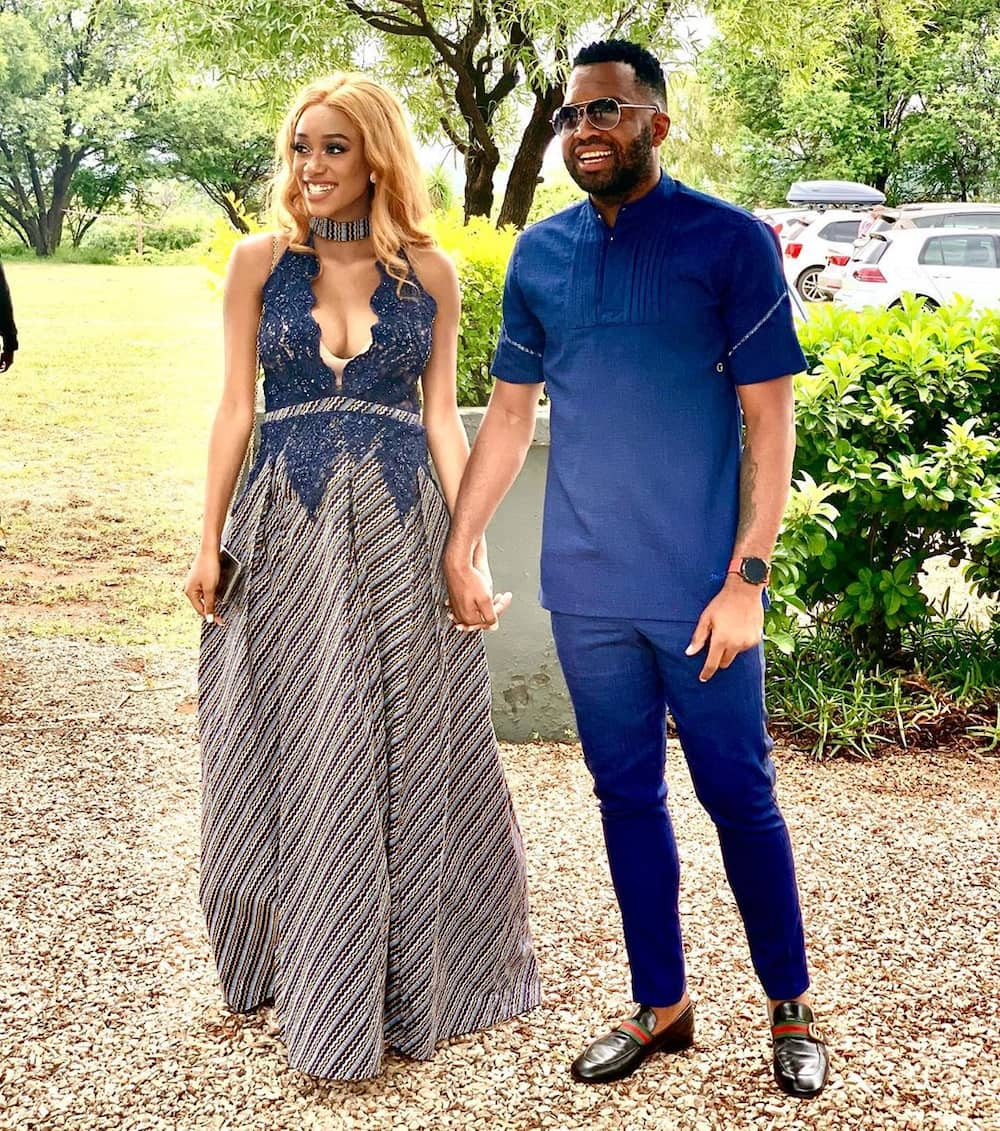 Sphelele Makhunga is not only recognized for being the wife of Itumeleng Khune but also for her own achievements and talents. She is an accomplished businesswoman, with a successful career in the fashion industry. Sphelele has her own clothing line, which showcases her unique sense of style and creativity. Her designs have gained recognition both locally and internationally, making her a respected figure in the fashion world.
In addition to her entrepreneurial endeavors, Sphelele is also a supportive and loving wife to Itumeleng Khune. She is often seen cheering him on from the sidelines during his matches, showing her unwavering support for his career. Their relationship is a testament to their strong bond and commitment to each other.
Itumeleng Khune resumed his relationship with Sphelele Makhunga in 2019 and the couple would go on to marry in June 2022. Khune is reported to have paid Lobola some time ahead of their eventual wedding and public scrutiny has not always been good for this couple.
The model, influencer and Varsity College graduate is also a mother of two. Makhunga also runs Eminence, a décor and event firm that plans festivities, baby showers, and birthday parties. In addition, she founded Eminence Florist, whose roses and flowers are sold in Johannesburg garages.

On her Instagram profile, Makhunga often advertises her enterprises, but not much is known about her life prior to meeting the Kaizer Chiefs and Bafana stopper. Makhunga has uploaded footage of herself training in their home gym with her husband, as well as a progress film of her muscular growth with personal trainer Blckvreka.
Makhunga and Khune welcomed their second child, a bay girl named Ziyanda, in June 2021. Amogelang, their first child, was born in February 2020. She is popular on Instagram in her own right sporting over 176,000 followers and repping for the Naturalistas with her stunning looks. Makhunga now lives in Johannesburg with her husband but she originally hails from Durban and still visits the city often.
She holds a Bachelor of Education from Varsity College. Makhunga has handled the spotlight gracefully, establishing a solid family unit with their two girls and backing her husband through some tough times on the pitch. She has proved herself to be a capable businesswoman, effectively managing her enterprises outside of her responsibilities as a mother and wife.
Sphelele Makhunga is not just a pretty face, but also a compassionate individual. She is actively involved in various charitable causes and works tirelessly to make a positive impact in the lives of others. Her philanthropic efforts have touched the lives of many, and she continues to inspire others to give back to their communities.
It is evident that Sphelele Makhunga is much more than just the wife of Itumeleng Khune. She is a multifaceted individual who has made a name for herself in various fields. Her beauty, talent, and kind-hearted nature have endeared her to fans and supporters alike. Sphelele's presence in Itumeleng Khune's life is undoubtedly a source of strength and inspiration for him, as they navigate their journey together.