Lungelo Mpangase's personal life remains undisclosed, sparking curiosity among fans.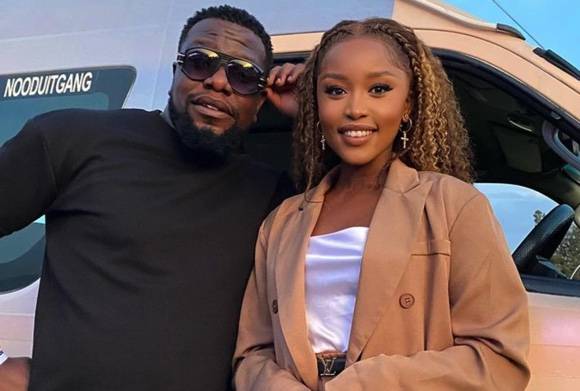 Lungelo Mpangase, the former eHostela actress, is rumored to be dating Tiisetso Thoka, but their relationship status remains uncertain.
Lungelo Mpangase does not have a husband but has a boyfriend who is said to be Tiisetso Thoka, the former Queen actor.
Despite being one of the most beautiful and endowed actresses in South Africa, Lungelo has had low-key relationships. She prefers to separate her professional life from her personal life. Hence, her dating history has remained a mystery. Nevertheless, the former eHostela actress was romantically linked to actor Tiisetso Thoka in early 2020.
Is Lungelo Mpangase Married?
No, Lungelo Mpangase is not yet married. However, she is not known to be single either, as she has successfully managed to keep her relationship status secret. Though she was previously linked to Tiisetso Thoka in the past years, she never confirmed or denied the relationship rumor. Presently, it's uncertain whether the two are still dating and planning on getting married in the future.
Who Is Lungelo Mpangase Dating?
After sharing cozy pictures and videos of each other on Instagram, Tiisetso Thoka was speculated to be Lungelo Mpangase's boyfriend. In the heart-melting photo, they were in each other's arms, looking madly in love and the former Isibaya actor captioned the post, 'The Other Half and My Zulu Love Letter #Idlozilivumile'.
As the two actors shared the same pictures on their individual Instagram accounts, they instantly made the hot couple alert news and were said to be dating. However, since 2020 they celebrated their love publicly, they never posted about each other again on social media. As a result, many people believe that they have quietly called it quits and moved on with their lives.
Nonetheless, Lungelo Mpangase and Thoka's relationship status is still not verified at the moment as they have kept their love life private.
Lungelo Mpangase and Her Romance with the Joburg Man
In early August 2023, Lungelo Mpangase hogged the headlines for not-so-good reasons. The former The Wife actress was alleged to have swindled a Joburg man she was dating of over R150,000 and then cut ties with him. It was reported that Lungelo manipulated the man into having a romantic relationship with her and then coerced him into paying for her extravagant expenses and allowances.
The Johannesburg man obviously fell head over heels in love with the gorgeous actress and allegedly gave her the sum of R80,000 for car installment. He also paid a monthly girlfriend allowance of R30,000 and spent R22,000 for the purchase of Louis Vuitton sneakers. Furthermore, the man gave her cash of R20,000 for an additional girlfriend allowance.
After realizing that Lungelo had cut ties with him and blocked his number, the mystery man took to social media to narrate his ordeal. He also provided evidence as he took a picture of Lungelo Mpangase while she was sleeping. Controversial entertainment blogger, Musa Khawula further supported the man's claims by sharing pictures and videos of Mpangase's lavish lifestyle which he claimed to have been sponsored by the Joburg Man.
The actress cum model has not yet spoken about the allegation and she is said to have disappeared from social media.
Does Lungelo Mpangase Have a Child?
No, Lungelo Mpangase is not known to be a mother. Though she hopes to embark on a motherhood journey someday, she's taking her time to ensure that it happens at the right moment and obviously, with the right partner.
What To Know About Lungelo Mpangase's Rumored Boyfriend, Tiisetso Thoka
Born on June 16th, 1987, Tiisetso Thoka is 36 years old. He is an actor and former YOTV presenter who is best recognized for playing a starring role as Ali in Isithembiso. He has additionally had roles in several other series such as eKasi: Our Stories, Gold Diggers, Skeem Saam, Snake Park, and Task Force.
In 2017, Thoka portrayed the character of Mandla, one of Nkululeko's sidekicks in the series, Nkululeko. He also landed a main role as Dingane in the Mzansi Magic series, The Herd the next year. He subsequently played Siya in Rhythm City and Ayihlome in The Queen.
Follow us for more of the content 💖 Stay Updated and Connected on SSiTV
Don't forget to follow and like our page for more of the content 💖